Ten Year Unconditional Warranty
D F & K M James trading as Billabong Garden Furniture provides this warranty for all of our outdoor furniture purchased new, post 2004. This Warranty is subject to the Australian Competition and Consumer Act 2010. The benefits provided in this Warranty are in addition to other rights and remedies of a consumer under the Australian Consumer Law, and any other laws in relation to the products to which this Warranty relates. All furniture manufactured by Billabong Garden Furniture (post 2004) is unconditionally guaranteed for ten years from time of original purchase. This guarantee is regardless of change of ownership. This Warranty covers the replacement or repair of any product that has a manufacturing or material defect that is not the result of normal wear and tear, or a natural characteristic of the material used such as cracks, bows and shrinkage. This Warranty includes furniture used for commercial purposes.
Testimonials
Only the clients email addresses and non-relevant information has been omitted.

Thank you David.
We love it, like having another lounge room. Since it has arrived we have had every breakfast, lunch and dinner there! Look forward to many memories ahead. Will spread the word for a great product, swift delivery and professionalism. Sounds corny but it truly means a lot when there is no fuss. Sascha

RE: Outdoor setting
Hi David, The setting was delivered safe and sound yesterday and was a huge hit with the birthday boy and all the others who have seen it so far, so you may get some more orders coming your way!
Meagan, Jason & Sam

Subject: RE: Billabong Garden Furniture enquiry
David, We received the table setting on Friday, to much delight. We are very pleased. Thank you for such a wonderful service and product. We will follow the maintenance instructions. Thank you again. We are very pleased. Kind regards Sam

Awesome Dave, they look bloody marvellous. Not light are they? Thanks very much. Brad Foster Managing Director Zanzibar Bar & Grill Pty Ltd.
Shelly Graham & Tangles

Hi David Of course it is fine to use our reference, we are Very Happy Quality. Comfort Cost and Delivery wise. Yours Sincerely, Shelly Hi Shelly, Thanks for the compliments. Is it ok to use your email on our testimonials page on our website? Thank you, David James To: "David James" Sent: Tuesday, December 15, 2009 3:19 PM Subject: Re: Expect some orders.

Hi David, Just thought I would give you a bit of warning, everyone who has seen the outdoor setting has been very impressed, with the construction comfort and cost so expect some orders. Our meeting went off without a hitch and the clients were also impressed and asking who we got the setting from. Thanks for all your help we are very happy customers, we tightened up the bolts on the benches and their solid as rocks now. We Love It and are very happy with our Christmas present to us, and the fact that Santa a.k.a. James and yourself could deliver it when we needed it. the dog has even found under the table a nice shady spot to sit, so we are all taken care of. We Hope you and your family Have a Safe Healthy Happy Christmas and a Prosperous Healthy Happy New Year. Yours Sincerely, Bob and Jennie. Blackheath NSW

Just a short note to say what great table you built for us. Make that outstanding table. Many a long lunch & Grand Dinner has been had around it. It always excites comment. Thanks again.

Hi Bob and Jennie, Your email really made my day, we do not often get any feedback. I am collecting it and will one day have a testimonials page on the website. Is it OK to use yours, with no second names? Please check this page (maintain) or drop me an email if you have any concerns with it. Thank you, David James.

Hi David Just a note to say thanks for my table. David, The information is good on that page, particularly about the bolt heads. I was going to fill those bolt holes when I find the chunk of beeswax I have somewhere in the shed. Attached is a picture of the table in situ on a flagstone slab. More than happy for you to use that photo. As you can see it is the feature of the backyard (after all the trees and shrubs of course). Also one of it in use (I am on the left with some workmates). We have had just one bolt loosen. That would be fine by both of us for you to publish a testimonial from us. I do not mind my surname being published at all, it is such a good product. Compared to the furniture available in the Mountains it is of far superior quality at an excellent price. Cheers and thanks again, Bob & Jennie.

Peter Chief Strategy Officer Heritage Bank
It is great! Heavy, but simple and beautiful and will last forever. Regards

Hi David, Just wanted to drop you a quick note to let you know how happy I am with your furniture. Not only are the sets functional and comfortable, they are beautiful as well! I have had many comments already from patrons. I think you'll be delivering again to Wellington as several people have asked for your contact details for orders. Thank you so much for driving them out here and constructing them in the rain! Service like that is rare these days. Thanks again. Kathryn Kennedy The Wellington Hotel Proprietor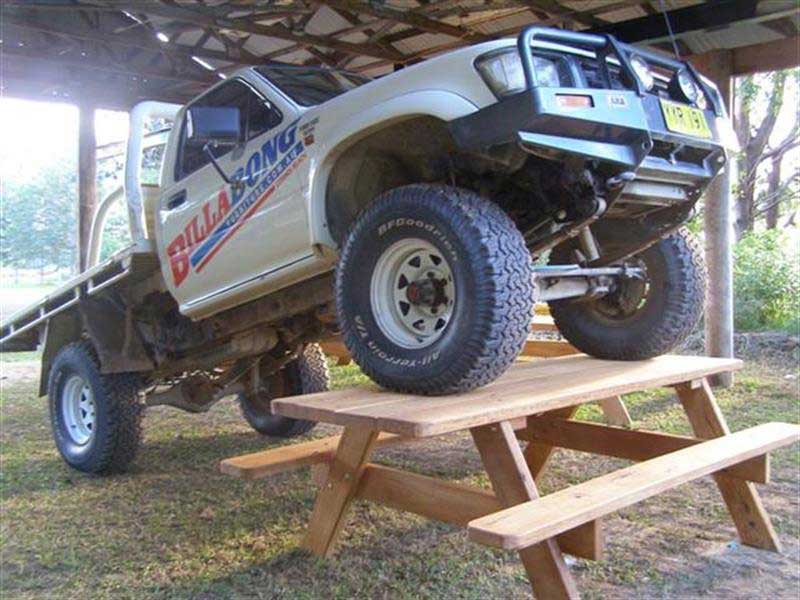 Proud suppliers to the Australian Defence Force, Department of Education and Essential Energy.